Date Display
Saturday, 23 September 2023
| | | |
| --- | --- | --- |
| A DAY LONG DEBATE ON THE RELATIONSHIP BETWEEN SCIENCES AND RELIGIONS. | | |
THE ROLE PLAYED BY NATURAL SCIENCES,
HYPOTHESIS OF STUDY AND PERSPECTIVES.
Leggi Versione Italiana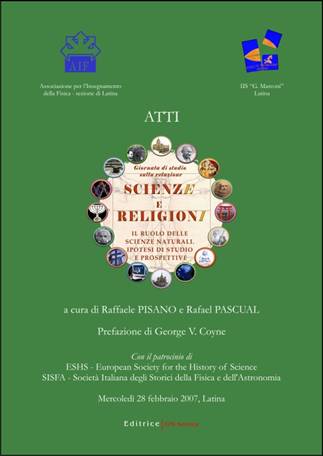 WEDNESDAY OF 28th FEBRUARY 2007 – h. 9.00-18.30
ITIS-LICEO SCIENTIFICO TECNOLOGICO "G. MARCONI"; VIA RENO, LATINA - (ROMA)
With Patronage:
ESHS - EUROPEAN SOCIETY FOR THE HISTORY OF SCIENCE
SISFA - SOCIETA'ITALIANA DEGLI STORICI DELLA FISICA E DELL'ASTRONOMIA
ATHENAEUM PONTIFICIUM REGINA APOSTOLORUM DI ROMA
info:
This e-mail address is being protected from spam bots, you need JavaScript enabled to view it
Invitation
Historians, Scientists, Scholars and doctoral students, interested in the theme of the workshop, are invited to take part in Latina event.
This event aims to offer a cultural and multi-disciplinary approach to explore different perspectives and points of view (theological, philosophical, historical, biological, epistemological, etc.) and citing research, studies and reflections on this vast and important subject. The event is considered educational for researchers and teachers; both students and current Ph.D. candidates will be given the opportunity to join the debate; very appreciated guests will be students et al.. of any religions or belonging to specific religious or non-religions denominations.
Committees:
Programme Committee:
D.S. Giovanna BELLARDINI
Prof. Raffaele PISANO
Local Committee:
AIF sez. di Latina;
ITIS-LST "G. Marconi";
Rete di scuole Latina;
Prof. Raffaele PISANO;
Prof. Ada GUERRIERO;
Prof. Salvatore PAPALEO;
Prof. Biagio GENOVESI;
Prof. Claudio CAPPELLETTO;
Sig. Riccardo ANTONILLI
Aims
FOR THE DAY-STUDY THE THEMATIC FOLLOWINGS ARE PROPOSED:
The role played by the religious beliefs during the origin of modern science.
Can science and the religious beliefs find a zone of intersection?
Is it possible speaking of scientific development inside the history of the religions?
The scientific theories on the origin of the universe and the religious doctrines on the origin of the world: a comparison.
Actually, does polemic among Creationist and new-Darwinians also include a dogmatism coming by science?
"Intelligent design": the meaning of the biological evolution also in theological terms?
Probability, law of the nature, miracle. Which perspective in the debate?
Does problematic of the genetic code dangerous for a pacific coexistence between science and faith?
Scientists, historical, philosophers and theologians: new perspectives and directions on the study?
The history of the science has confirmed the presence of alternative choices in the development of its foundations. Do alternative choices also exist in the history of religions for which the relationship reason-faith can be pluralistically expounded?
To the variety of kind of faiths and theologies, it can follow as many varieties of foundations of the science? Is the contrary one worth also?
The history of the religions what kind of contribute can offer to the history of the science?
Catholic religion or history of the religions at school?
Teaching religion at school. Could the historical study of the science and the religions at school help the better understanding the difficulties among the traditional religious and scientific cultures?
Has the Catholic Church furnished a suitable answer on the nature of the science?
The relationship science-faith established in 21st cent. has been a forgery problem?
The Christianity and the Islamism in the in 21st cent. and their view of the science.
Which is the role of the culture of the non-violence in the scientific progress and in the religious progress?
Science-religion: what kinf of solution is it waited us?
Speaker
Antonino DRAGO - Historian of Physics, University di Pisa and Firenze
Danilo CAPECCHI – Historian of Science, University of Rome "La Sapienza"
Vincenzo CAPUTO - Zoologist, University Politecnica delle Marche
Enrico GIANNETTO - Historian of Physics, University of Bergamo – President for Società Italiana degli Storici della Fisica e dell'Astronomia (SISFA)
Giovanni BRENCI - Epistemology of Science and Genetics, Athenaeum Pontificium Regina Apostolorum
Luigi CERRUTI - Historian of Chemistry, University of Torino and President of Divisione di Didattica della Società Chimica Italiana and Gruppo Nazionale di Fondamenti e Storia della Chimica
Ludovico GALLENI – Zoologist, University of Pisa and Member of European committee for Società europea per lo studio di Scienza e Teologia (Esssat)
Mauro DORATO - Philosopher of Science, University of Roma "TRE"
Roberto FONDI - Palaeontologist, University of Siena and author of Associazione Italiana di Biologia Teorica and magazine Systema Naturae.
P. Rafael PASCUAL, L.C. – Philosopher of Science, Athenaeum Pontificium Regina Apostolorum - Doyen of School of Philosophy and Director of Master Science and Faith
Raffaele PISANO - Historian of Physics, University of Rome "La Sapienza" and Member of Italian National committee for Physics Teaching (A.I.F.) and Member of European commette for the European Society for the History of Science (E.S.H.S.)
Stefano CANALI – Historian of biology, University di Cassino and President of University Civica of Nettuno "A. Sacchi" (Rome)
Salvo D'AGOSTINO - Historian of Physics, University of Rome "La Sapienza"
Download PDF Programme (689 KB)
Deadlines
Registration: 20th January 2007 at 12.00
Abstracts of contributed papers via mail only (to: This e-mail address is being protected from spam bots, you need JavaScript enabled to view it ) 31st January 2007 at 12.00
Call for contributed papers: 30th April 2007 at 12.00
Call for Papers
Abstracts of proposal of contributed papers should be prepared as Microsoft Word 97x documents in (maximum) two-pages and addressed to This e-mail address is being protected from spam bots, you need JavaScript enabled to view it . The languages of the conference are Italian and English. No simultaneous translation will be available.
Notebook et al.
We have:
Notebook, Windows XP; 4 USB 2.0; Office Suite 2003 professional; Winzip, Acrobat reader 7.0; et al.;
N. 1 Projector for computer
N. 1 Overhead projector
Proceedings
Official Proceedings by:
AIF Divison of Latina
ITIS-LST "G. Marconi", Latina
Athenaeum Pontificium Regina Apostolorum, Roma
Patronage
ESHS - European Society for the History of Science
Regione Lazio
Comune di Latina
USR - Ufficio Scolastico Regionale del Lazio
USP - Ufficio Scolastico Provinciale del Lazio
APT Provincia di Latina
Università Civica di Nettuno (Roma) "A. Sacchi"
Sponsor&partnership
CARAFA S.N.C.
GALANTI Mangimi – LT
GULLI' Stampanti e fotocopiatrici – LT
LA PREVIDENTE Assicurazione – LT
LATINA Marmi – LT
MANZO Riscaldamenti – LT
MILLNIIUM EVENTS – eventi e turismo – LT
PALAFITNESS –Dimensione corpo – LT
PALIOTTO Libri e Libri Formia S.n.c.
PIERI Gioielleria – LT
PIERMARIO Libri – LT
PORFIRI Abbigliamento – LT
TARTAGLIA Ferramenta – LT
Hotel Reservation and travel information at special price
Please, all e-mail correspondence on all travel information and hotel reservation (special prizes for the Workshop)
should be addressed to:
MillenniumEvents-Appunti di Viaggio s.a.s.
Technical Manager: Dr. Cesare Altobelli
Mobile Tel. 393 9524791
Tel. + 39 0773 661540
Fax + 39 0773 473329
E-mail: This e-mail address is being protected from spam bots, you need JavaScript enabled to view it
Homepage http://www.millenniumevents.it/
Workshop PosterDownload PDF Poster (441 KB)