| | | |
| --- | --- | --- |
| Proceedings - Sciences Religions | | |
SCIENCES and RELIGIONS
THE ROLE PLAYED BY NATURAL SCIENCES,
HYPOTHESIS OF STUDY AND PERSPECTIVES.

Leggi versione italiana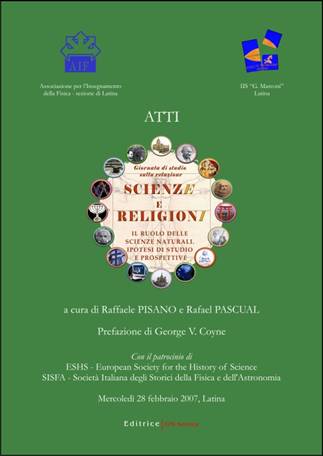 by Raffaele Pisano and Rafael Pascual
Pages: 252
AIF SEZIONE DI LATINA and IIS "G. MARCONI"; Latina
Preface:
GEORGE V. COYNE (Specula Vaticana)
Patronage:

ESHS - EUROPEAN SOCIETY FOR THE HISTORY OF SCIENCE
SISFA - SOCIETA' ITALIANA DEGLI STORICI DELLA FISICA E DELL'ASTRONOMIA
ISBN: 9788861780521
Info & condizioni di vendita (a cura dell'editore):
http://www.uni-service.it/atti-scienze-e-religioni.html

"Science and Religions. The Role Played by natural sciences, hypothesis of study and perspectives."
In this book the reader will find the contributions of researchers and professors of sciences, history of sciences and philosophy of science. It includes very interesting and remarkable reflections around the problem of the relation science-religions, researched and produced with passion. Among them, obviously the relationship science-faith or science-theology. All of them move from structured thoughts upon problematic with regards to evolutionism and others topics by means of historical, mathematical and logical, dimensions. Each contribution has been freely expressed, according to the researchers' personal and professional convictions without interposing limits or obstacles to the dialogue and the general understanding.
Official Patronage: ESHS and SISFA
(et al.. adm. patronages)

The book is into Italian language:
"ATTI. Giornata di Studio sulla relazione Scienze e Religioni. Il ruolo delle scienze naturali, ipotesi di studio e prospettive. Latina 28 febbraio 2007".

Contents:
- Introduction by Raffaele Pisano and Rafael Pascual
- Preface by George V. Coyne (Dir. della Specola Vaticana)
- Speakers and Essays by
ANTONINO DRAGO - Università di Pisa e Firenze
DANILO CAPECCHI - Università La Sapienza
ENRICO GIANNETTO - SISFA/Università di Bergamo
GIOVANNI BRENCI - Ateneo Pontificio Regina Apostolorum
LUIGI CERRUTI - Università di Torino
MAURO DORATO - Università di Roma3
RAFAEL PASCUAL - Ateneo Pontificio Regina Apostolorum
RAFFAELE PISANO – ESHS/Università La Sapienza
ROBERTO FONDI - Università di Siena
ROBERTO VEROLINI - Università Camerino
SALVO D'AGOSTINO - Università La Sapienza
STEFANO BORDONI - Università di Pisa e Pavia
VINCENZO CAPUTO - Università Politecnica delle Marche
INFO and first pages in .pdf: http://www.uni-service.it/atti-scienze-e-religioni.html